In 1938, two chemists and two physicists made an interesting discovery. They bombarded Uranium nuclei with neutrons and found the nuclei split in two and released a large amount of energy. This was the first instance of a nuclear process called "fission" occurring in a lab. Now, this process produces 13% of the Earth's energy. So how does it work?
There are two main types of ways for us to harness energy usually wrapped up in the nucleus of an atom. Today we will be looking at one, fission, and tomorrow we will be looking at the other. Before we go into specifics, lets take a look at what where all these things take place.
The atom is a strange place. Gravity, which is integral for everything we do in life, is barely involved, and forces such as the strong force, something we never see in real life, take over. The atom is made of a nucleus and electrons orbiting about it.
In the diagram, the small blue particles are electrons, don't worry about those, they aren't very important right now. However, in the middle, the cluster of red and green circles is the nucleus and that is very important to us. In any atom there are a certain amount of the red particles (called protons). They define what the substance is. For example, every copper atom, the regular metal you see in wires all over your house, has 29 protons, and iron, a metal with completely different properties has 26. The fact that a change so apparently small can lead to such a different substance is a topic for another day, but it shows you how sensitive the conditions in the nucleus can be.
The red particles, do not like to stay together. They repel each other with a very large amount of force. So how do they stay together in copper and iron and every other substance on earth? Well that is where the green particles are important. They are called neutrons. The neutrons are very similar to protons. In fact, they are pretty much exactly the same. However, the neutrons act like the glue in the nucleus. They do not repel each other or the protons and instead are the reason they stick together (due to the strong force).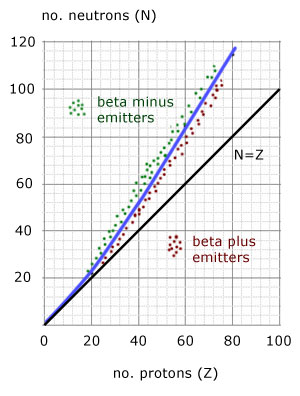 Each dot on this graph is a naturally occurring atom on earth. On the x-axis we see the number of protons and on the y-axis we see the number of neutrons. As we can see, all the dots fall about the blue line. All the red dots, the "beta plus emitters", do not have enough neutrons in their nuclei. The protons are not stuck together well enough and they are radioactive because of this. As you can see, the line is a curve and this shows that if you add another proton to an atom you need to have more than one extra neutron to hold it together and the more protons you have to start with the more you would have to add. This is the main reason that heavy elements, like uranium are radioactive when lighter ones like oxygen are not.
Because all these particles are held together, there is a lot of energy within these connections. So, how can you release it? Well here we come to the matter of fission. Take a very heavy nucleus (one with a lot of protons and neutrons, some are better than others), such as a type of uranium and with a bit of coaxing you can get it to split in half, releasing some of the energy previously trapped in the nucleus. By shooting a neutron into the nucleus, there is just enough energy to split the nucleus in two smaller, lighter elements. This splitting also releases three neutrons and energy. Some of you may have heard of chain reactions in nuclear power plants and this is where the extra three neutrons come into this.
If they fly out and one hits another atom of uranium, that atom will split releasing energy and neutrons. Then one of those neutrons could hit another uranium atom and it will split and so on. Once the reaction starts, it is very difficult to stop it. The idea of not being able to control a reaction that creates large amounts of heat, on its own is a scary idea, and the fact that the elements the uranium splits into are usually highly radioactive means that nuclear power is considered dangerous and frightening. Indeed, disasters like when a nuclear power plant had a meltdown in Chernobyl, are much more common than we would hope. However, the efficiency of this process cannot be over emphasized and if it can be made more safe, then many believe it could power the world.
---
We hope you've enjoyed this post! Return on Sunday for the second post on this subject, on nuclear fusion.
If you did like the post then please check out our last two posts:
Matter and Antimatter: Why hasn't the whole universe exploded? – When they come together, matter and antimatter explode, so why hasn't that happened to the whole universe?
What is Graham's Number? – Sometimes we need really big numbers in maths. We aren't talking a million, a billion or even a trillion. No, this is the largest number ever used in a mathematical problem, and saying it was big would be an understatement…